Biography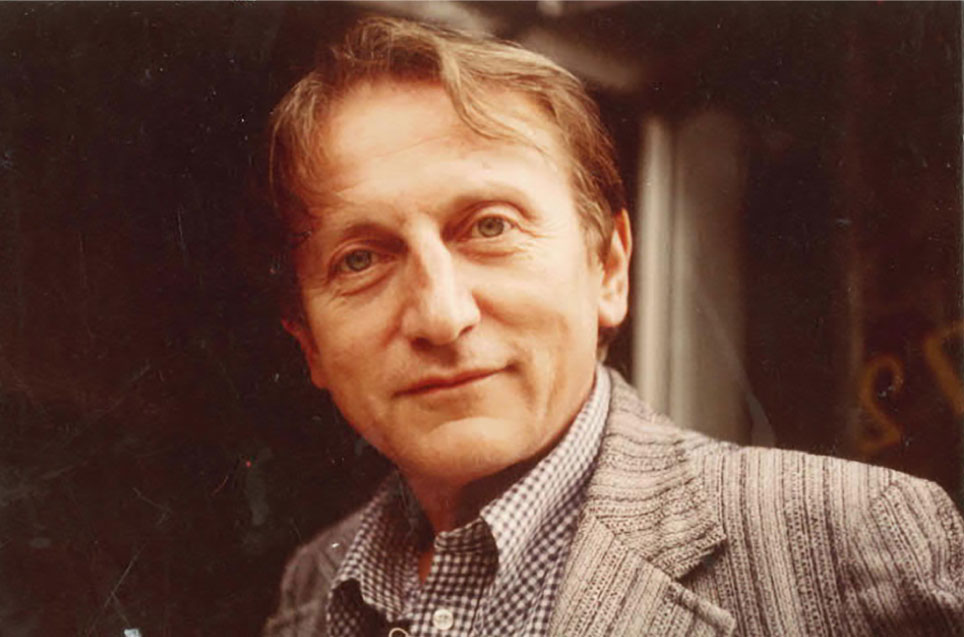 Vladimir ''Vlada'' Petrić (11 March 1928, Prnjavor, Kingdom of Yugoslavia – 13 November 2019, Belgrade, Serbia) was an eminent film studies scholar, a Harvard University professor, and the co-founder of the Harvard Film Archive. He was the first recipient of a PhD in a film studies in United States. Throughout his creative career, Mr. Petrić directed for film, television, theater, focusing on producing and directing experimental video essays later in his life. Petrić's academic publications are marked by seminal works in his areas of expertise, which include film form and technique, particularly in American and Soviet cinema.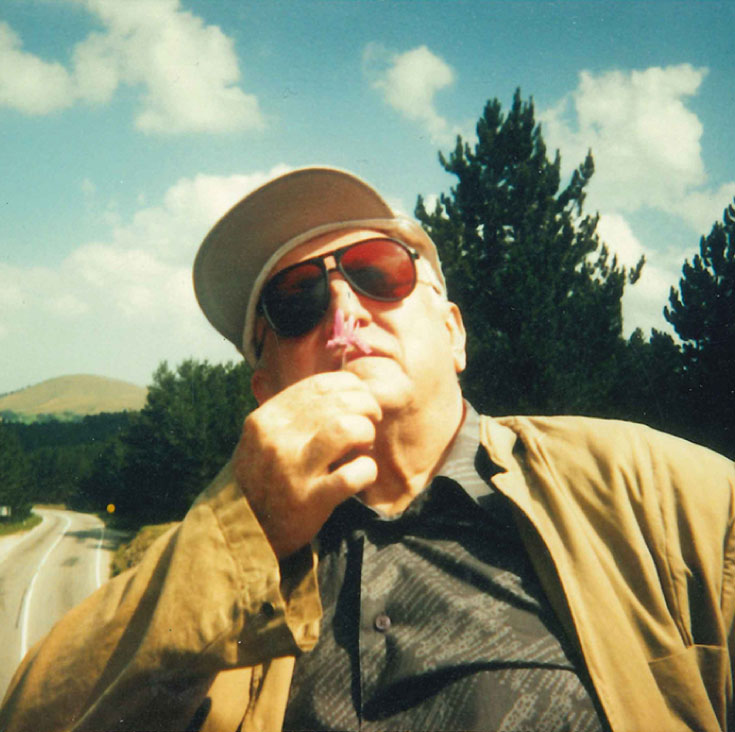 In the period between 1972 and 1974, Petrić was a visiting professor at the Department of English Language and Literature at the State University of New York (SUNY). Petrić was then offered the Henry Luce Chair of Cinema at Harvard University in 1972 and remained in that position until 1997. During this period, he also lectured extensively at universities across the United States and Europe. Together with the legendary documentarian Robert Gardner and the influential philosopher Stanley Cavell he established the Harvard Film Archive and served as its Founding Curator until his retirement in 1997.
Vlada Petrić graduated from the English Language and Literature Department of the University of Belgrade in 1956. Prior to this, he worked as a teaching assistant for acting and directing at the Academy of Theater and Film in Belgrade, where he also received a degree in film and theater directing in 1958. He also served as a director at Radio Television Belgrade from its founding in 1958. After receiving a professorship in film history at the Academy of Theater and Film in 1960, Mr. Petrić spent the period 1965-1966 on a study trip in the Soviet Union at the All-Union State Institute of Cinematography, where he conducted research into Soviet cinema under the tutelage of Lev Kuleshov and Nikolai Lebedev. In 1970, Petrić went to the United States as the recipient of a Fulbright Scholarship, where he enrolled at New Your University and in 1973 became the first person to receive a doctoral degree in film studies at a US institution of higher education.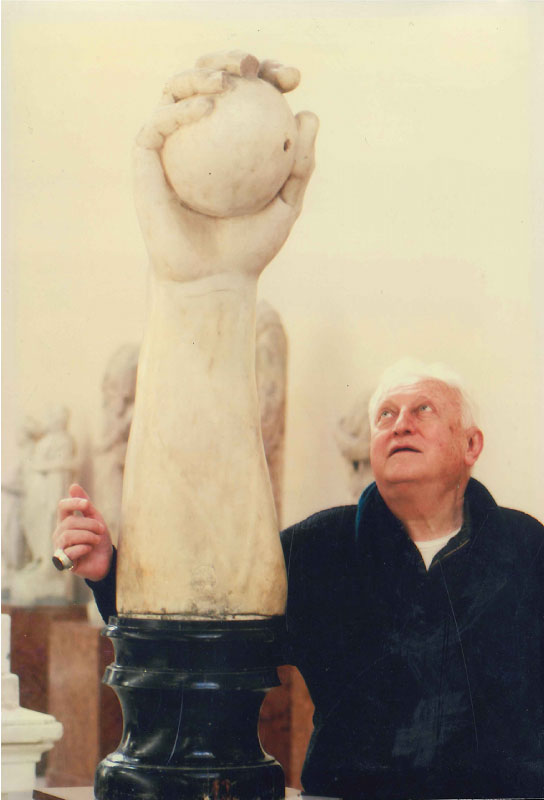 Bibliography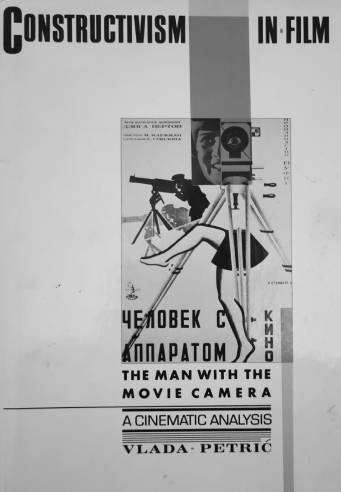 Constructivism in Film: The Man With the Movie Camera
Cambridge University Press, 1987
Constructivism in Film examines the radical experiments of early Soviet filmmakers, with special
emphasis on the relationship of Constructivist film to contemporary literature, painting, architecture
and design.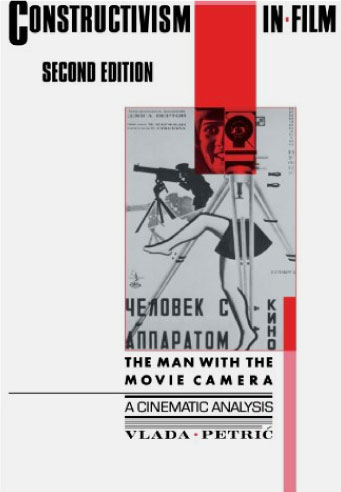 Constructivism in Film: The Man With the Movie Camera
Cambridge University Press ; second edition 2011
The publication of Vlada Petrić's Constructivism in Film … Is a long-
awaited and important moment in film criticism … after decades in which Vertov's concepts of cinema have been insufficiently researched and often misrepresented, English-speaking readers and lovers of film as an art form have two important opportunities: (1) to obtain information directly from the source and (2) to understand Vertov's expansive achievement and its theoretical bassis.
Journal of Film and Video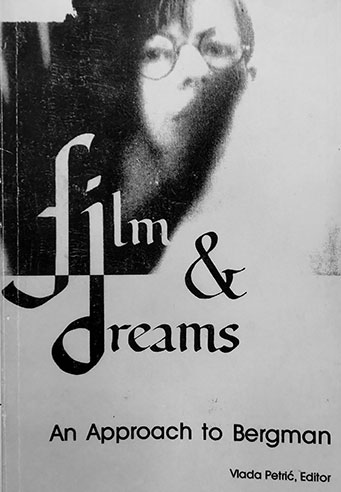 Film and Dreams: An Approach to Bergman
Redgrave, NY, 1981
Film Quarterly
Volume 35, Issue 4
Summer 1982

Тhis multi-ring intellectual circus is presided over by Vlada Petric through his opening lengthy
essay, in which he surveys the entire historical trajectory of thinking about films and dreams,
and describes how many different film-makers and schools have used dream-like film styles. It
is clear, from the interest stirred up by Kinder's journal Dreamworks, that the issues here (for
film and other arts) are lively ones.
Ernest Callenbach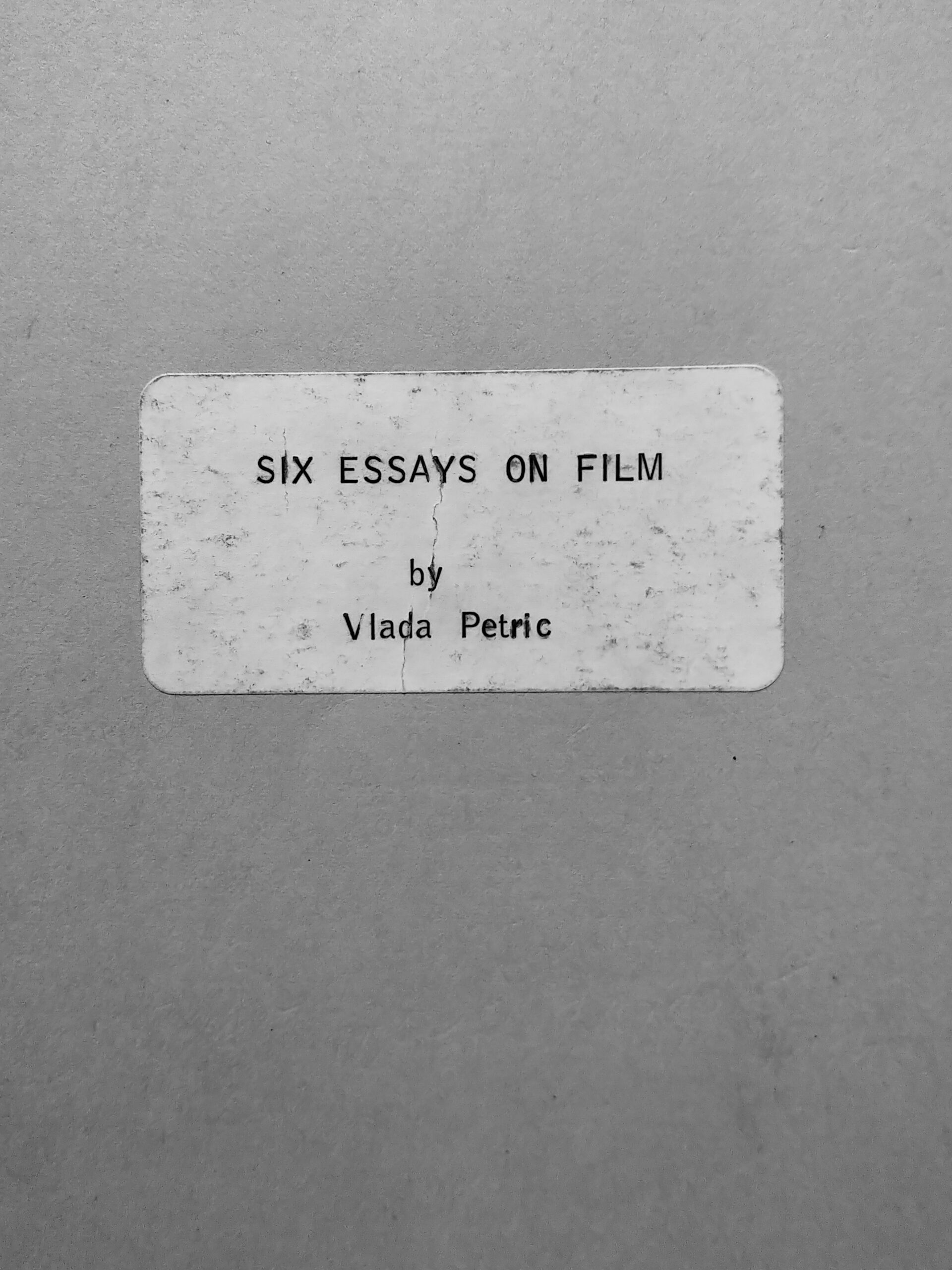 Six Essays on Film
Quarterly Review of Film Studies, Cinema Journal, 1980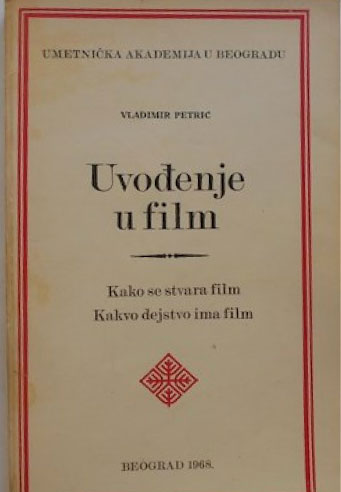 Introduction to the film
Academy of Art, Belgrade, 1968
The introduction to the film is conceived as a collection of articles in which the students of the Academy for theater, film, radio and television, and all those who want to get acquainted with the basics craft-technical characteristics, aesthetic principles, the most important achievements and directions of film art, find the most important data, instructions and explanations.
From the preface Writer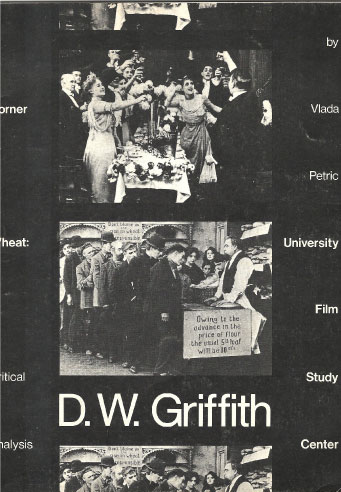 D. W. Griffith: A Corner in Wheat
University Film Study Center, 1975
The publication of this material provides a film study resource for students and teachers
unavalible elsewhere, Vlada Petric's reading of A CORNER IN WHEAT is comprehensive and
rigorous. The essay presents a critical analysys of the film's cinematic structure and its filmic
devices, while the shot-by-shot breakdown performs a close textual analysis of Griffith's
composition within the frame and development of the film's action, and his editing structure.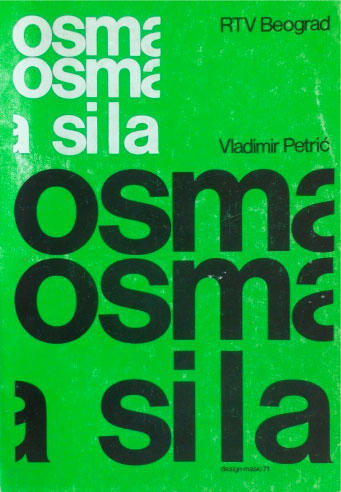 Eighth Force – Television
Radio Television of Belgrade, 1971
After this reading, television can no longer be watched with the same associations as before then, and this confirms that the book The Eighth Force not only manages to enrich the reader with new and concrete knowledge, but also abundantly stimulates his imagination.
From the preface
Jovan Ćirilov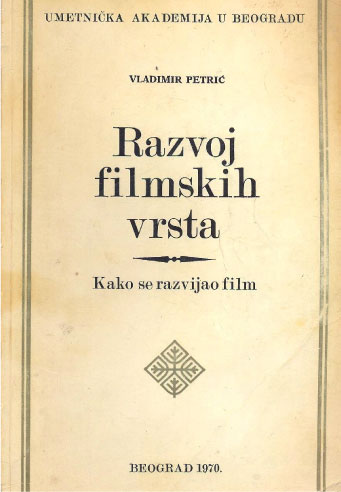 Development of film types
Academy of Art, Belgrade, 1970
The explanations and data collected in this book are necessary for anyone who intends to dedicate himself to film directing or any other type of direct work in film industry.
From the preface
Writer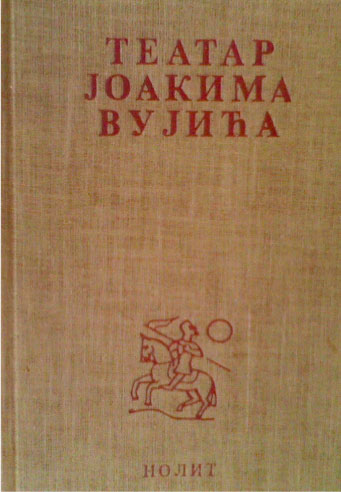 Theater of Joakim Vujić
Nolit, Belgrade, 1965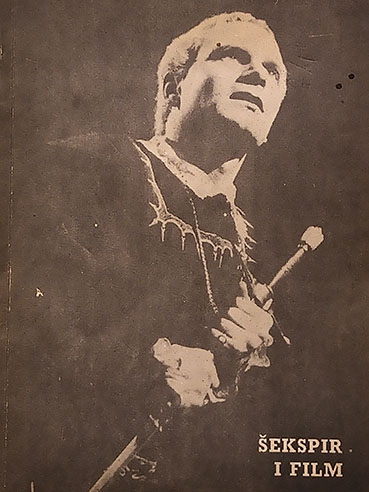 Shakespeare and film
Yugoslav Film Archive, Belgrade, 1964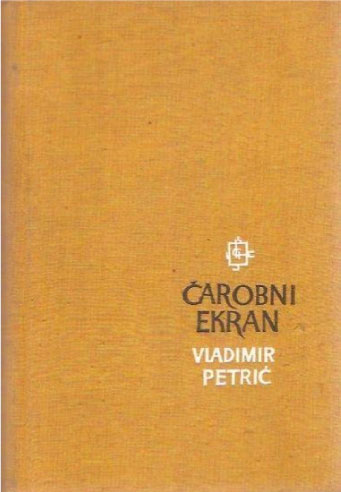 Magic Screen
National Book, Belgrade, 1962
Is this book proof that Petrić has a conflict between his knowledge and his wish? Is it behind the objective presentation of facts in a clear, very simple way (what it seems that his book is read with interest) does not pulsate the ardent commitment to habitation film as true art?
From the preface
Josip Kulundžić
Filmography
Director
| | | |
| --- | --- | --- |
| Wall of Memories (work in progress) | 120 min | 2009 |
| Unmerciful Angel | 55 min | 2007 |
| Symphony of Hands | 124 min | 2000 |
| The people will gild it all (TV movie) | 56 min | 1969 |
| Švabica (TV movie) | 99 min | 1969 |
| The first time matins with my father (TV movie) | 120 min | 1969 |
| Apocalypse (TV movie) | 55 min | 1968 |
| Cat on rails (TV movie) | 124 min | 1968 |
| Time of love (segment "Cage") | 56 min | 1966 |
| The Crime of Sylvester Bonar (TV movie) | 99 min | 1966 |
| There were seven of them (TV Movie) (television director) | 120 min | 1962 |
| Race (Movie) | 55 min | 1962 |
| Mića and Mikica (TV) | 124 min | 1961 |
| Msje Žozef (TV movie) | 56 min | 1960 |
| Big Midnight Mystery (TV) | 99 min | 1960 |
| Love letter (TV) | 120 min | 1959 |
| Laža i paralaža (TV movie) | 55 min | 1959 |
| Fatal thirst (short) | 124 min | 1959 |